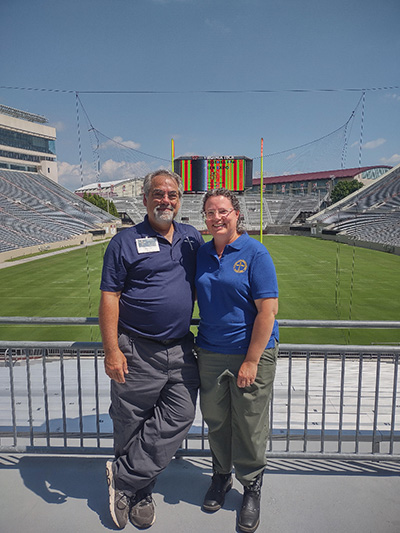 Michael Steele started with FCFI in 2001 and since then FCFI has been a major part of his life.
In his second year (2002) Michael was made a Board Member of the Northeast Pennsylvania Chapter.
He met Karen in 2004 and their very first night together was Michael taking Karen to the FCFI chapter monthly Bible meeting.
Within five months they were married and from that very first moment they have been side by side serving the Lord in the FCFI tent.
In 2004 Michael became the chapter Vice President and Karen was attending every monthly board meeting with him.
Around 2011 Karen was made a board member since she was faithful in being at every board meeting.
The Northeast Pennsylvania FCFI Chapter was very busy and was considering eliminating their northernmost event, the Troy Fair, from the schedule.
Since Michael and Karen lived in north central Pennsylvania they did not want to give up that event.
So, in 2018 Michael and Karen received permission from FCFI to start a new FCFI chapter.
January 2018 was the start of the Pennsylvania Northern Tier Chapter.
Michael and Karen want to take the salvation message of Lord Jesus wherever they possibly can.
So, they are now running events in Pennsylvania, Virginia, and Maryland (a former event was held in New York State making the chapter footprint even larger)!
They are both very pleased with being a part of the Fellowship of Christian Farmers, International and look forward to a long continued partnership.
And look close when you see Michael come through the door.
You will still see Karen holding his hand at his side!!